Travel and Cruise Opportunities

Great e-Books for Free, Cheap or Discount Travel
This information on travel and cruise opportunities is presented in an effort to help you travel free, cheap, or at a great discount.

The authors listed below have published very valuable information.

Please note that the links below go to the respective Author's sales page.
However, do not allow the fact that you will land on a sales page deter you from going to a site. Oftentimes you are offered other free (and usually valuable) information.
Authors offer extra free information in order to keep you interested in their expertise (what they have to say) with the hope that you will make a future purchase.
Use whatever free information you get to enhance your ability to evaluate and make informed decisions about which opportunities are best for you.
Click each link below to see the corresponding sales page for a full description and explanation.
Bookmark this page or subscribe to the Cruise Vacation Advisor blog to stay up-to-date on additions and changes.
Fly Free
Why Not Fly Free is written by a travel agency owner.
Do you know about ticket consolidators?
Do you know that the cheapest airline tickets are sold only by travel agencies (and not on-line as is commonly thought)?
Take a Disney World Vacation for a fraction of what others pay. This is written by a former Disney cast member and a best selling travel writer.

"Ultimate Disney World Savings Guide e-Book Please note that this is an e-Book that is updated regularly. All customers receive lifetime access to e-Book updates, even if it's months or years after your initial purchase. You will always have the very latest Disney savings strategies at your fingertips."

Disney Savings Guide
Guide to Mexico

Live or Retire in Mexico: A Practical, Detailed Guide.

"So you want to learn the trick to retire in Mexico? I lived in Mexico on a budget for 7 years and after accumulating a set of hard-earned how-to knowledge, I developed a helpful e-book.  My book Mexico: The Trick is Living Here  will help you live or retire (or travel extensively) in Mexico."
Airline Upgrades
Former Airline Employee Reveals Airline Secrets To Upgrades + Savings
"Most travelers dream about getting an operational upgrade to first or business class, at least once." 
"When you learn the information in the Travel Guide you will join the growing number of those who already learned how to make the system work for them - how to pay the absolute minimum and fly much more."
Travel Secrets

"Just using one of the secrets in this guide could help you save hundreds, even thousands, on your next trip or vacation"

Cheap Excursions

"You're going to discover in my Shore Excursions on the Cheap ebook the industry secrets, tips and options that travel agents, cruise professionals and those on the "inside" of the travel business all know." - David Palmar
---
Here are two great tools to help you become a successful writer, online or off-line.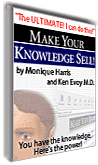 Knowledge Sells
"You will gross at least 1,000 times your purchase price within two years, or we'll will refund 10 times what you paid for MYKS!" This book is now Free!
Keep in mind that travel and cruise opportunities require effort.
Either you trade money (full value) for what you want or you make a small payment for information (purchase e-book) that will show you how to trade your time and effort for what you want. You trade your time and efforts for a fraction of the real cost.
In fact, taking advantage of travel and cruise opportunities is easier than you think because so few people actually do it.
A lot of people may start with good intentions but many will not follow through.
If you persist you will accomplish your objective of free, cheap, or discounted travel.
Authors who have similar e-books are encouraged to request inclusion by using the Contact Us link (at bottom of page) or the feedback form.
See ya on board!
Back to Top
Travel and Cruise Opportunities
Why Sell Cruises
Return to Home Page - Cruise Vacation Advisor
You can search this site or the whole web from this page.To search this site simply enter the term you want to look for in the Google box below; or, select the web button for a Google www search.